Melanie has also found success in radio.
Melanie's award-winning  series "Jazz on the Bay", in which she interviewed legendary luminaries from the world of jazz, was broadcast on RTÉ Radio 1 for six seasons.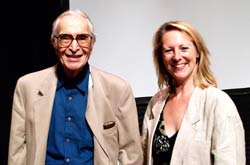 The programme featured conversations with Dave Brubeck, Chick Corea, Clint Eastwood, Nancy Wilson, Bobby McFerrin and a host of other stars.
Well received during its run, Jazz on the Bay won a PPI/Irish National Radio Award for Music Specialist Programme of the Year.  "It was an extraordinary experience being in the presence of such jazz icons and this had a profound effect on me. The words of Brubeck echo in my ear: "Jazz stands for freedom… Get out there and improvise, and take chances".
The series is currently being broadcast every last Sunday of the month on California based KCSM.org,  the Bay Area's jazz station.
LISTEN BACK  : : https://melanieoreilly.podbean.com/