Jazz Vocalist – Composer – Jazz Radio Host – Music Educator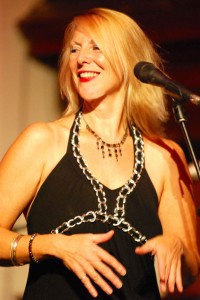 Melanie, originally from Dublin who has made her base in Wexford, is an international figure in the world of vocal jazz. Though she is a native of south Dublin, her spirit was drawn to the American art-form of jazz.
"There was something that attracted me to jazz at an early age, the exciting rhythms , rich harmonic chords and the improvisational spirit. As a teenager I began listening to jazz recordings of Ella Fitzgerald, Billie Holiday, Miles Davis, Dizzy Gillespie or Dave Brubeck; I became totally absorbed by this musical journey. I was hooked!"
The arts are in her blood. She was brought up in a family of performers and artists. Daughter of Abbey actress, and RTE radio presenter Bonnie O'Reilly, and niece of theatre impresario-founder of the Dublin Theatre Festival Brendan Smith, Melanie tread the boards as early as 11 years of age at the Brendan Smith Theatre Academy. She also sang regularly at the Feis Ceol competitions winning many awards.
"Being brought up in a family where the arts were an integral part of our lives has been a blessing; all kinds of music permeated the house; and as my parents had courted to the Big Bands when they were young, they handed on their love of swing jazz . My godfather, Uncle Brendan, gave me a wonderful gift in enabling me to follow my interest in performing, which has developed in me a sense of being "at home" on stage.
Celtic Jazz
After studying dramatic performance at the Brendan Smith Theatre Academy, Melanie started her professional career as a jazz singer and composer blending American jazz with Irish traditional music to create vocal Celtic Jazz – her trademark.
"I was lucky enough to hear live performances of Irish traditional musicians at the famous Foxrock Folk Club as a young teenager. Their performances were followed by Dublin jazz musicians such as the Louis Stewart Trio. The night both The Chieftains and Louis Stewart Trio jammed together blew my mind. I knew I was witnessing something special. An incredible fusion of two great traditions: Irish Trad music blending with the American art form. Old yet new."
Melanie singing Chugat an Puca, Wexford Arts Centre
Melanie & Trio: Live at the "Festival  Musiques d'Ici et d'Ailleurs", Châlons-en-Champagne  France
Touring
Melanie performs nationally and internationally with her jazz and celtic-jazz trio in illustrious venues which include: The Lincoln Center New York, London's Barbican Centre, the World Music Festival "d'Ici et D'Ailleurs" in France, the Black Cat Jazz Club in San Francisco, the Take 5 Jazz Club at Pacific Univ. CA, Angelicas Jazz Club Redwood City CA, the National Concert Hall Dublin, the Cork Jazz Festival and the Edinburgh Fringe Festival where she garnered 4 star reviews. She has also represented Ireland at the European Union Jazz Festival at Schoenberg Hall Los Angeles.
In 2019 she was Artist-in-Residence at La Mue Arts Residency Normandy, where she composed new jazz works in collaboration with Le Dansoir Cultural Centre. Later on that same year she performed a series of concerts at the 2019 European Heritage Weekend at which Melanie and her trio represented Wexford/ Ireland as "Guests of Honour".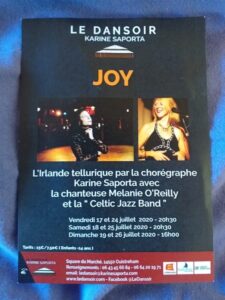 Albums
Melanie has released a number of jazz albums strongly influenced by her Irish heritage including Oileán Draíochta, Dust and Blood and Ceol Ceantair.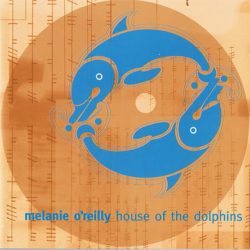 Her album House of the Dolphins was well received by critics and resulted in nominations for Best Contemporary Album and Best Female Artist by Irish Music Magazine
Over the years, she has worked with a host of stellar musicians.
The late, great guitarist Larry Coryell featured on Oileán Draíochta while Melanie has also shared the stage with Oliver Jones, Darius Brubeck, George Brooks, Simon Rowe, Frank Martin, and Louis Stewart.
Recent Work
In 2020, Melanie was invited to perform as special musical guest for the global online United Nations Day and that same year during the Covid-19 pandemic lockdown, she created her Jazz Appreciation Series,  developing an Outreach jazz programme in partnership with the Wexford Arts Centre (WAC), and is currently Jazz Artist -in-Residence at the WAC , sponsored by the Irish Arts Council.  She is also a renowned jazz vocal instructor at various distinguished music colleges and schools including: Wexford School of Music, Waltons New School of Music and California Jazz Conservatory.
See Melanie perform at the Cal Jazz Conservatory here:
Melanie debuted her show Jazz on a Summer's Day: a Tribute to Anita O'Day in California, celebrating the life and songs of the pioneering jazz singer renowned for her vocal virtuosity and colourful private life.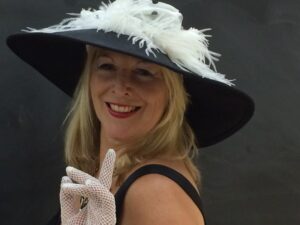 It received four-star reviews at the Edinburgh Festival Fringe during its run there, and continues to garner praise wherever she performs it, including most recently during 2021, at the Wexford Arts Centre where it has consistently sold out.
Most recently, Melanie and her Celtic Jazz Ensemble were chosen to represent Wexford's Culture Night, while also performing at the National Heritage Park Irish Music & Heritage Festival , and at the inaugural Jazz at Johnstown Festival where she performed with her Swing Jazz trio, whilst also thrilling audiences at Kilkenny's 2021 Yulefest. She recently graduated from American College Dublin with an MFA in Performance and was awarded the Gold Medal for Graduate of the Year 2021.
Radio
Away from the stage, she has also found success in radio.
Melanie's series "Jazz on the Bay", in which she interviewed legendary luminaries from the world of jazz, was broadcast on RTÉ Radio 1 for six seasons.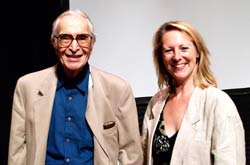 The programme featured conversations with Dave Brubeck, Chick Corea, Clint Eastwood, Nancy Wilson, Bobby McFerrin and a host of other stars.
Well received during its run, Jazz on the Bay won a PPI/Irish National Radio Award for Music Specialist Programme of the Year.  "It was an extraordinary experience being in the presence of such jazz icons and this had a profound effect on me. The words of Brubeck echo in my ear: "Jazz stands for freedom… Get out there and improvise, and take chances".
The inaugural episode of her new radio  series "Jazz Across the Bay"   was broadcast on LirMedia TV, in collaboration with the Wexford Arts Centre for  International Jazz Day 2021 and she will continue this series in 2022. Melanie continues to perform, compose and educate. After 14 years in Berkeley, California, and having returned to her native Ireland, she now divides her time between Europe and California.